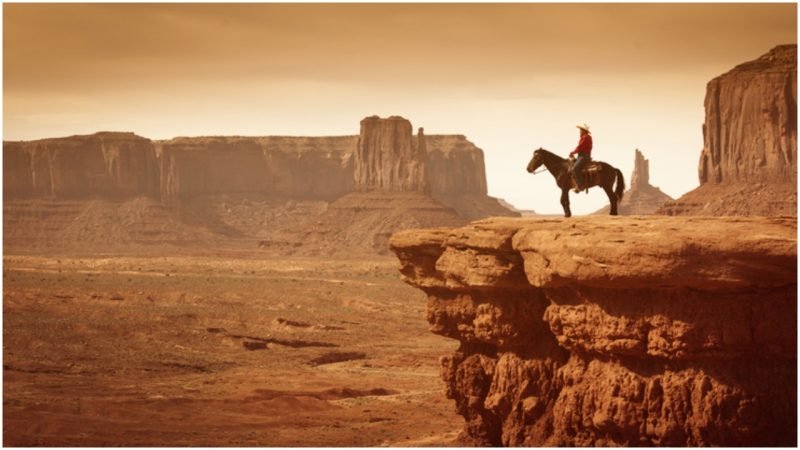 Gunsmoke, The Lawman, The Lone Ranger…Thanks to syndication, classic shows about life in the Wild West continue to entertain viewers decades beyond their cancellations.
While these fictional sagas offer no shortage of captivating tales, the real history of the West is infinitely more fascinating! Check out these seven books below to discover the true tales of America's most famous outlaws, lawmen, and Old West hot spots.
Arizona Outlaws and Lawmen: Gunslingers, Bandits, Heroes and Peacekeepers by Marshall Trimble
A refuge for outlaws at the close of the 1800s, the Arizona Territory was a wild, lawless land of greedy feuds, brutal killings and figures of enduring legend. Bandit Pearl Hart committed one of the last recorded stagecoach robberies in the country, and James Addison Reavis pulled off the most extraordinary real estate scheme in the West. With fearless lawmen like C.P. Owens and George Ruffner at hand, swift justice was always nearby. Arizona's official state historian and celebrated storyteller Marshall Trimble brings to life the rough-and-tumble characters from Arizona's most terrific tales of outlawry and justice. You can find this book here!

Wyoming's Outlaw Trail by Mac Blewer
A historic path that meandered from Canada to Mexico, the Outlaw Trail was used by outlaws such as Butch Cassidy, the Sundance Kid, and the James brothers. Following existing routes such as the Oregon Trail, the highway connected towns and natural hideouts essential for bandits escaping the law. Discover the history, folklore, and geography behind some of Wyoming's outlaw towns and hideouts— as well as the deeds of the robbers, lawmen, and ordinary folk who rode those dusty trails. You can find this book here!
A Wild West History of Frontier Colorado: Pioneers, Gunslingers & Cattle Kings on the Eastern Plains by Jolie Anderson Gallagher
Jolie Anderson's award-nominated book focuses on the early frontier history of Colorado's plains and includes a look at some of the state's early pioneers like the "59ers" who promoted the state through travel guides and newspapers, exaggerating tales of gold discovery and even providing inaccurate maps to promote settlement in the plains. This collection of wild west tales also focuses on feuds, Indian fights, outlaws, early rodeo history, and the perils of living and traveling the major gold routes. These stories and events  provide a glimpse into the early history of the state. You can find this book here!
Calamity Jane and Her Siblings: The Saga of Lena and Elijah Canary by Jan Cerney
The mere mention of Calamity Jane conjures up images of buckskins, bull whips and dance halls, but there's more to the woman than the storied legend she became. Born Martha Canary, she was orphaned as a child and found homes for all of her siblings. After setting off on her own, she tried to reconnect with her family while transforming into Calamity Jane. Soon, her own foibles and her siblings' choices rendered the attempt futile. From brother Elijah's horse thieving to sister Lena's denial of Martha's tales, author Jan Cerney uncovers the tumultuous Canary family often overlooked in the Calamity canon. You can find this book here!
Related: Making Men Purr: Cathouses in Silver Valley, Idaho
Around Tombstone: Ghost Towns and Gunfights by Jane Eppinga
The communities that once surrounded the infamous Wild West town of Tombstone are now mostly ghosts of their former selves. These rich mining towns had promising futures when they were first established, but many experienced only fleeting boom times. There was corruption in the region too. Dos Cabezas's Mascot Mine became part of one of the largest stock scandals of the time when it was exposed around 1900. Today this fascinating history of the crumbling remnants on the outskirts of Tombstone lives on primarily in faded memories, and the vintage photographs seen in this volume. You can find this book here!
Sacramento's Gold Rush Saloons: El Dorado in a Shot Glass by Special Collections of the Sacramento Public Library
As early as 1839, Sacramento, California was home to one of the most enduring symbols of the American West: the saloon. Sacramento saloons offered not simply a nip of whiskey and a round of monte but also operated as polling place, museum, political hothouse, vigilante court and site of some of the 19th century's worst violence. From librarian James Scott and the Special Collections of the Sacramento Public Library comes a fascinating history featuring the advent of gaming, the rise of local alcohol production, and stories of the region's most compelling personalities. You can find this book here!
Missouri Outlaws: Bandits, Rebels & Rogues by Paul Kirkman
Whether seen as a common criminal or Robin Hood with a six-shooter, the Missouri outlaw left an indelible mark on American culture. In the nineteenth century, Missouri was known as the "Outlaw State" and offered a list of lawbreakers like Jesse James, Bloody Bill Anderson, Belle Starr and Cole Younger. These notorious criminals became folk legends in countless books, movies and television shows. Author Paul Kirkman traces the succession of Missouri's first few generations and how each contributed to the making of some of the most notorious outlaws and lawmen in American history. You can find this book here!
Can't get enough of the wild, wild west? Check out these similar titles below at arcadiapublishing.com!